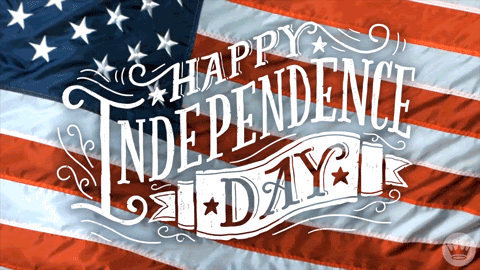 While celebrating Independence Day may feel different this year, there are many fun ways to celebrate safely at home. This year, grab some sparklers, grill some burgers and hotdogs, and try one of these patriotic activities to go along with them! Whatever you choose to do this year, I hope you have a fun and safe holiday! Since many fireworks shows have been cancelled due to the pandemic, you may want some alternative activities. If you decide to do some at-home fireworks, here is some great information about what is permitted for backyard fireworks in Virginia.
At-Home Activities for July 4th!
Red White and Blue Tie-Dye

Nothing says summer like tie-dye and creating your own can be a really fun activity for both adults and kids! Here's a tutorial to learn how to create a patriotic tie-dye shirt.

Patriotic Rice Sensory Bin

If you've got young kids, a sensory bin can be an awesome activity to keep them busy for hours. Put a fun, patriotic twist on it by dying the rice red, white and blue. Learn this easy trick with this tutorial. Throw in some plastic stars for a cute addition!

Send a Letter to a Hero

July 4th is all about celebrating our freedom, which we certainly wouldn't have if it weren't for the incredible men and women serving in our military. Grab a pen and paper for yourself, or your kids, and write a letter or color a picture for a hero. Send the letters to A Million Thanks and they will get it to men and women serving overseas.

Patriotic Dessert Pizza

Whether you're grilling out or ordering take-out, a delicious, patriotic dessert can be the icing on the cake! Here's a great recipe for a fun, festive dessert that tastes as good as it looks.

Toilet Paper Roll Fireworks Craft

While we may not be able to catch a real fireworks show this year, the kids may love this easy craft that you might even have all the supplies for at home. It only takes a toilet paper or paper towel roll, paper some scissors, and red and blue paint.