We hope everyone enjoyed their Thanksgiving Holiday! Now, we can officially begin decorating for the holiday season! If you are anything like us, you love a live Christmas tree so we decided to put together a list of the best places to find a 'cut your own' Christmas tree in Northern Virginia. Many of these farms also have other decorations for sale, Santa appearances, hot chocolate and cider, and much more to enjoy the season.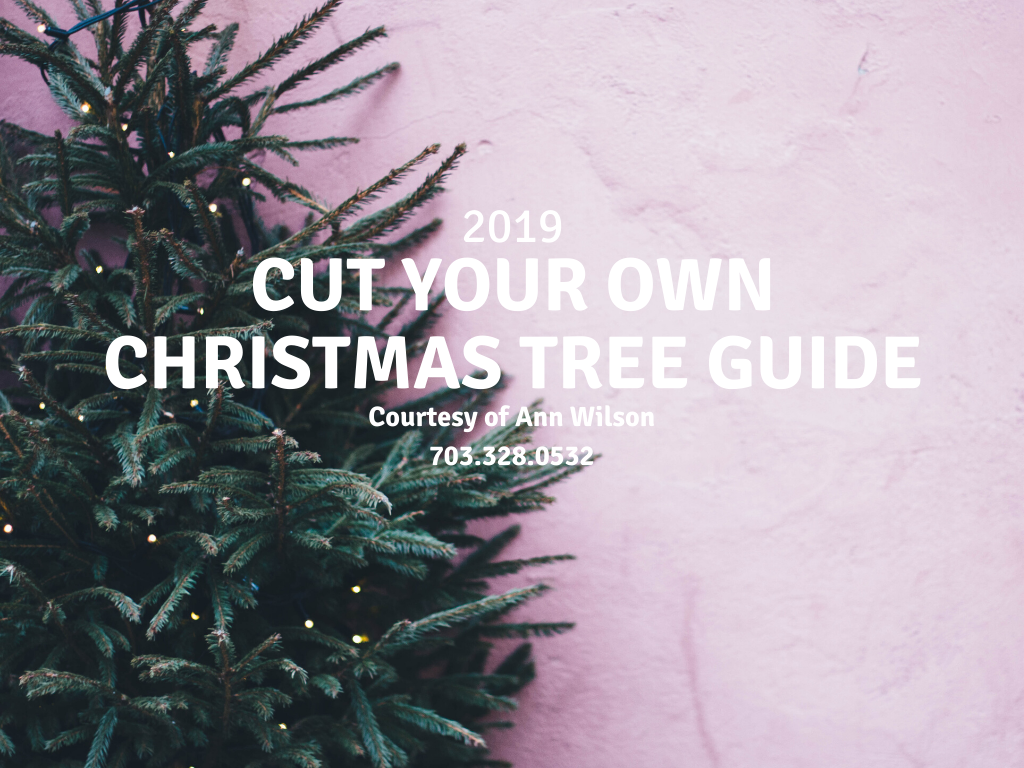 Clark's Farm – Both 'cut-your-own' and pre-cut Christmas trees available, wreaths, boughs, garlands, mistletoe and more decorations available. They also offer trees tied, trees baled, tree trimmings, free hot cider and more.
www.clarksfarmusa.com
721 Courthouse Road, Stafford, VA 22554 – About 30 min drive from Arlington
540-659-2172
Open: From the Friday after Thanksgiving until Christmas Eve – Monday to Thursday from 11 am to 7 pm, Friday and Saturday from 10 am to 8 pm and Sunday from 10 am to 6 pm


Chilly Hollow Christmas Tree Farm – Both 'cut you own' Christmas trees (saws provided) & 'you choose, we cut' trees available, trees bagged & tied, free hot chocolate & cider. Maple Syrup from trees on the farm, concessions & refreshment stand also for sale.
www.chillyhollowchristmastreefarm.com
1642 Chilly Hollow Rd, Berryville, VA 22611 – About an hour drive from Arlington
540-539-1307
Open: 9am-5pm Friday-Sunday of the weekend after Thanksgiving (11/29-12/1) and the following Saturday & Sunday until sold out


Moose Apple Christmas Tree Farm – Cut Your Own Christmas trees, Living Christmas trees (to plant later), wreaths, boughs, garlands, decorations, tree shaking & baling provided, saws provided & gift shop available.
www.mooseapplechristmastreefarm.com
2425 Wickliffe Rd, Berryville, VA 22611 – About an hour drive from Arlington
540-955-2450
Open: Nov 29-Dec 1, Dec 5-8, 12-15, 19, 20 & 22 to cut trees & visit our gift shop from 10am-4pm

Belmont Christmas Tree Farm – Go directly to their farm to cut-your-own Christmas tree in Spotsylvania or pick up a pre-cut Christmas tree at their lot in Fredericksburg. Wreaths and other decorations also sold. Cash and checks only.
Farm: 7533 Belmont Rd, Spotsylvania, VA 22551
Retail Lot: 5629 Plank Rd, Fredericksburg, VA 22407
540-854-6757
Farm Hours: Mon-Fri from 3-5pm, Sat from 8am-7pm, Sun from 8am-5pm
Lot Hours: Mon-Fri from 11am-8pm, Sat & Sun from 9am-9pm
Some pre-cut tree options that are closer to Arlington include the following farms. In addition to their pre-cut trees, they also have wreaths and other decorations, gift shops, Santa appearances and more.

Cox Farms – Pre-cut Christmas trees, Christmas wreaths, Christmas boughs, garlands, mistletoe, Santa appearances, Christmas decorations, trees tied, tree shaking provided, trees baled, free tree trimmings, bonfires and smores.
15621 Braddock Road, Centreville, VA 20120.
www.coxfarms.com/corner-market/christmas.aspx
Phone: 703-830-4121
Open: Daily from Nov 29-Dec 23 – Mon-Fri from 11am-8pm, Sat & Sun from 9am-7pm


Whitehall Farms – pre-cut Christmas trees, wreaths, boughs and garlands available for sale, Santa appearances, tree tying, baling & shaking provided, winter wagon rides, bonfires, free hot chocolate & cider, fresh eggs, farm market and gift shop.
www.whitehall.farm/christmas-trees-.html
12523 Popes Head Road, Clifton, VA 20124
Phone: 703-968-3900
Open: Fridays 11am-5pm, Saturdays 9am-5pm, Sundays 11am-5pm